Veneers
---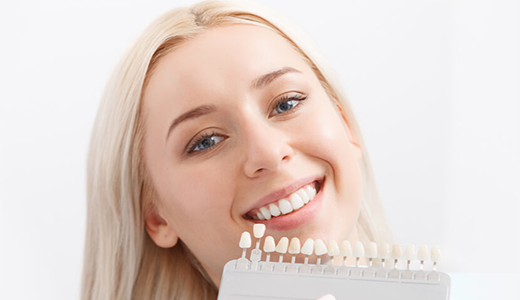 When you need dental veneers in Hudson, OH or Orrville, OH, turn to Village Dental. We offer dental veneers in Orrville, OH and Hudson that will transform your smile.
Dental Veneers in Hudson, OH
Dental veneers are ideal for many patients who desire a more attractive smile. Since dental veneers are a form of cosmetic dentistry, it's important to know that veneers are not a treatment for dental issues. If you have underlying dental problems, those will need to be treated before getting dental veneers.
Transform Your Smile With Dental Veneers
The beauty of dental veneers is how quickly they can improve your smile. They mask certain conditions that can make a smile less attractive or that can make a person embarrassed about smiling.
Dental veneers in Hudson, OH can change many things about the appearance of your teeth, such as:
Hue

Length and width

Shape

Slant

Size
Your dentist in Hudson, Ohio can provide details about all the ways that dental veneers can improve or alter your unique smile.
How Dental Veneers Can Help Your Smile
Dental veneers are used to "cover up" a range of issues, such as:
Gaps between teeth

Permanently discolored teeth

Excess enamel wear

Chips in the teeth

Cracks in the teeth
If you have these minor conditions that you'd like to hide, talk to your dentist about the possibility of getting dental veneers.
How it Works
Getting dental veneers is very straightforward. First, a very thin layer of enamel will be removed from your tooth. This gently roughens the surface so that the dental veneer will adhere more readily. Next, an imprint is taken of your teeth that will be veneered. That imprint (or mold) goes to a dental lab where your permanent veneers will be made. Meanwhile, you'll be fitted with temporary veneers. Once the permanent veneers are ready, you'll return to the dentist's office. The dentist will ensure that the veneers fit properly, then they will be permanently applied to your teeth using a special laser light.
When you're ready to take your smile to the next level, contact your Hudson, Ohio dentist. Book an appointment now to learn more about how dental veneers can reshape your smile!